a LIVE performance that includes
#RUBY
#Audio Engine
#Live programming
#Electronic Music
#Traditional_Percussions
#Tuned_Percusssions
#Handpan – Balafon
#Guitar
#Contemporary_Dance
#Dance_Crew


Storytelling that contains a metaphor about man / machine interaction through which we ask ourselves about artificial intelligence and the relationship with it through their respective different languages.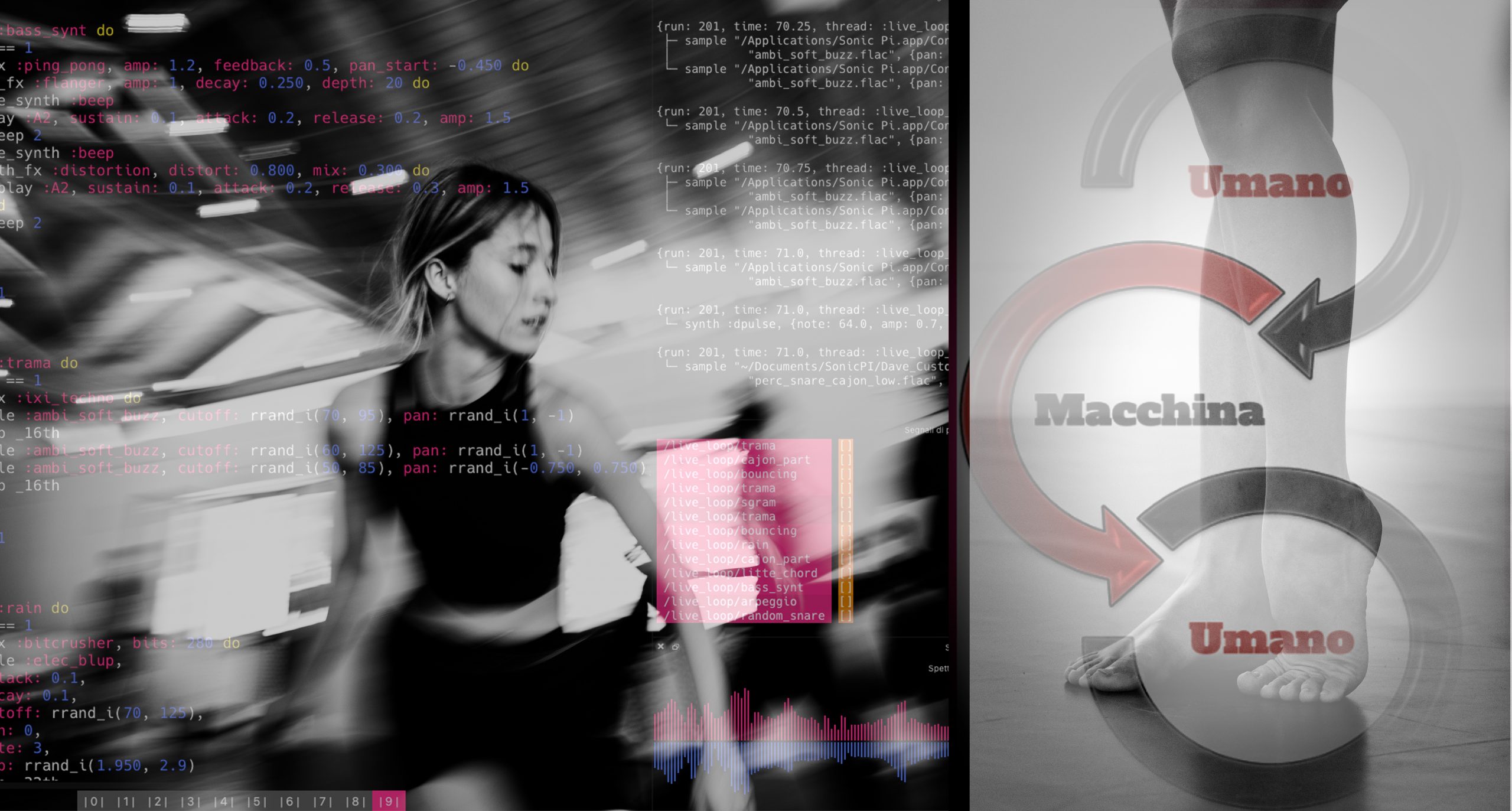 "HUMAN" code is parsed by a MACHINE that render it as SOUND shaped by DANCERS with their bodies.
The CIRCLE of interpretation is closed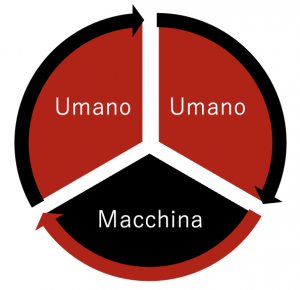 Human Machine LIVE performance >>> STRUCTURE
< MACHINE LIVE CODING >
In this scene, starting from a "blank slate", the source code is written under the eyes of the audience.
As soon as the code is executed it starts playing in real time synthesized by an audio engine.
The viewer listens to electronic music and can see its deeper structure, the original source code.
The code contains explicit references to the dancers, in the comments and in the variables names and in the functions; Dancers begin interacting with it accordingly.
Contemporary dance gives shape to electronic music, thus closing the circle of interpretation of languages as the code is written and executed.
The human sound
In this scene, electronic music is silent.
The dancers perform a contemporary dance performance accompanying each other at the beginning by producing their own sounds with the mouth, on which LIVE music then intervenes, played with a varied kit of musical instruments consisting of traditional percussion, tuned percussion and guitar
"Viscera, skin, blood … other skin"
A close synergy is expressed through reciprocal interpretation that occurs totally between human beings. The machine is silent, but listening …
Integration >>
In scene 3, the sounds previously made by the dancers are reproduced by the machine as if the artificial intelligence had learned from the previous scene. A pre-coded buffer runs the human sounds assembling them to create rythmic patterns used by musician on stage as metronome to improvise on.

In scene 3
a new section of electronic music (whose source code continues to flow under the eyes of the spectators all the time) forms the basis for live music and dance finds a further form of expression in the combination of languages.
Machines and humans, empowered by a profound bond of fruitful collaboration, give life to the finale of the show in crescendo.